Brighton and Beyond
A History of the Cowley Family
Reproduced by kind permission of The Royal Pavilion and Museums, Brighton & Hove
Welcome!
This web site traces the origins of my Cowley ancestors back to the early part of the 18

th

century. Exploring the site gives you an insight in to how the family members migrated from the Brighton area, not only to other parts of the United Kingdom but also to other parts of the world.
One of the fascinations in family history research is discovering how people lived and what they did. The Cowley family, and the families in to which they married, do not disappoint! We have bakers, farmers, dairymen, drapers, hotel keepers, chefs, confectioners - the list keeps growing.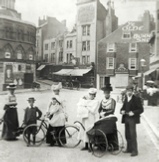 A Work in Progress!
The web site is very much a work in progress and continues to develop as people send me more and more information. I guess that it will never be 'finished'.
Keep up to date with the latest web site updates by following the link from 'About this site' to 'What's New?'.
I hope that you enjoy exploring the site and, if you have any memories to share, please make contact with me by following the link at the top of this page.

"To forget one's ancestors is to be a brook without a source, a tree without a root"
Old Chinese Proverb

Page updated - 6 October 2022


If you have enjoyed browsing this website or if you have any comments, please sign the Guest Book
Preserved for All Time!
'Brighton and Beyond' was accepted for archiving in the British Library's UK Web Archive in February 2011 and will therefore be preserved in some format for future generations. The archive is only updated occasionally so the site that you see on there will not be the same as the current 'live' web site. Click on UK Web Archive to find out more about this project.