Brighton and Beyond
A History of the Cowley Family
Reproduced by kind permission of The Royal Pavilion and Museums, Brighton & Hove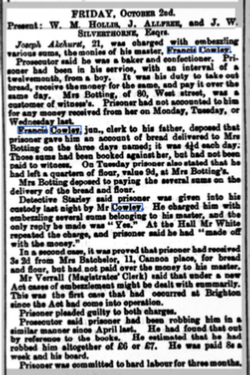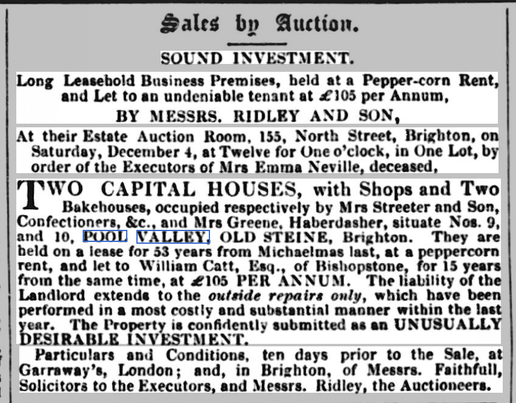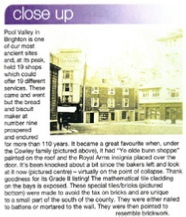 Melville's Directory and Gazetteer of Sussex
1858
Streeter's bakery ca 1834
From The James Gray Collection
My great, great grandfather, Francis Cowley (b 1806), was a baker in Brighton. In the 1841 and 1851 censuses and in an 1845 Brighton street directory he is shown as trading at 9, Prince Albert Street.
In the 1851 census Sarah Streeter is trading as a baker at 9 & 10 Pool Valley, employing 12 men and 8 women. One of the booklets below shows that the bakery was founded in 1794.
I don't know exactly when Francis Cowley took over the bakery, but the first record that I have found is an advertisement in Melville's Directory and Gazetteer of Sussex dated 1858. (This also confirms that the business was formerly run by 'Streeter & Son'.) Francis Cowley is listed at 9/10 Pool Valley in the 1861, 1871 and 1881 censuses. The business was evidently thriving as in 1861 and 1871 Francis was employing some 26 people. Francis died in 1881 and left estate valued at £4350 2s 9d - at least £400,000 at 2018 value.
By 1881 Francis's daughter, Caroline, was working in the bakery and in the 1891, 1901, and 1911 censuses, following the death of her father, she is listed as 'head' of the household and has taken over the business. Her fortunes may not have been as great as her father's as, when she died in 1934, her estate was valued at just £182 12s 11d.
How, and when, the bakery became known as 'Ye Olde Bunn Shoppe' remains a mystery!

The Royal Warrant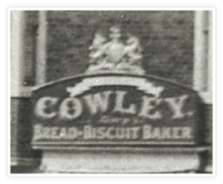 Several of the photographs of 9/10, Pool Valley show a Royal Crest above the Cowley name.
The Royal Warrant Holders Association has confirmed that Miss Caroline Cowley held a Royal Warrant of Appointment from HM King Edward VII. It is thought that the Warrant dates from 1908 as Caroline joined the Association on 10th October of that year. According to the 1912 Register, the 'Board of Green Cloth' (supervising Warrants) gave Caroline permission to continue using the Royal Arms after the death of King Edward VII in 1910. It is not clear why this dispensation was granted. Caroline eventually resigned her membership on 5th October 1921 when the dispensation came to an end.
Evidence from various images and documents suggest that it is likely that Francis Cowley also held a Royal Warrant from Queen Victoria. I have 'drawn a blank' with this research and the suggestion from the archivist at Windsor Castle is that the records, if they still exist, may be somewhere in the National Archives.
The pictures below provide a fascinating pictorial history of "Ye Olde Bunn Shoppe" during the course of the last 100+ years. The first four photographs, the postcard of the sea front, and the images of the Cowley 'booklet' are from the collections at The Royal Pavilion and Museums, Brighton & Hove and are reproduced here with their kind permission.
Click on the images to enlarge them





Believed to be a photo from the early 1930s.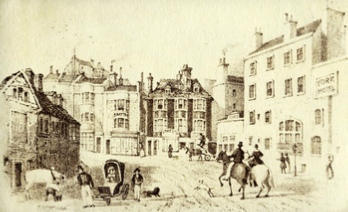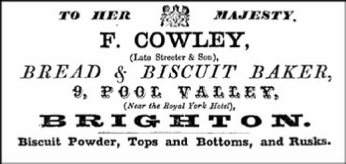 This photo also dates from around 1900 showing Pool Valley, Brighton. It is a posed view of a family with 'Ye Olde Bunn Shoppe' visible in the background.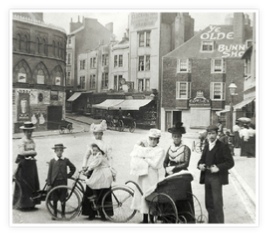 © Victoria and Albert Museum, London
This watercolour is from the V&A Images web site. It was painted by Charles Knight (1901-1990), in 1940.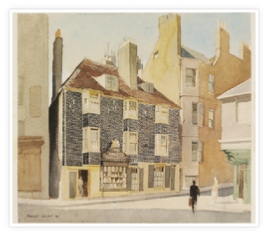 This card is postmarked 5 July 1956 and was sent to an address in Forest Hill, London. The final sentence reads, rather strangely - "This picture is not to be confused with the Labour Exchange".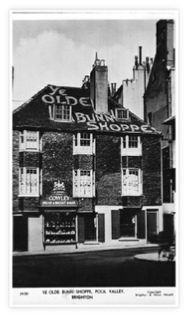 I found this postcard after my father died in 2003. It was sent to him by his father, Charles Leonard Cowley, on 3rd August 1939. Grandfather writes: "Take care of this card, no more obtainable".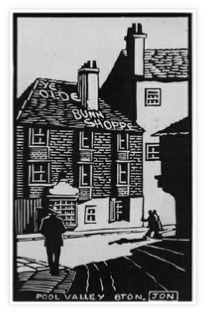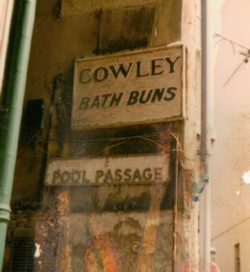 This photograph was taken in 1988 by Carol Homewood and is reproduced here with her kind permission.
More interesting images on Carol's website 'Brighton Girl'.

This photograph was taken during my visit to Brighton in 2012 and thankfully shows the 'Bunn Shoppe' in course of restoration to its former glory. The brick tiles had yet to be replaced.
The building has now been re-let for commercial use.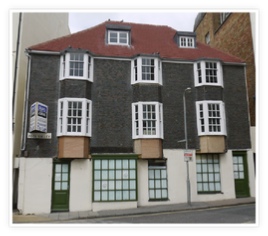 This postcard shows Grand Junction Road, Brighton with "Ye Olde Bunn Shoppe" somewhere amongst the buildings.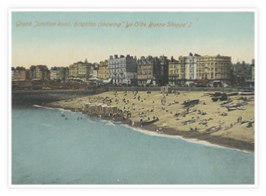 This article was published in the 'The Argus', and shows the sad state of the building despite it being listed as Grade II* by English Heritage for its architectural and historical importance. Click on the image to see the full article.

This booklet was rescued by Kristen Bailey when she found it being used as a bookmark in a charity shop. It contains some of the press quotes in the booklet above.


The Tunnel

In 2009 I was contacted by Gill Cowley. Gill told me that her father-in-law, Vernon Cowley who was a master baker in Newhaven,

remembered an 'aunt' who had a bakery in Brighton and that he recalled a story about a tunnel from the bakery in Pool Valley to the Royal Pavilion which was used to "take cakes to visiting royals". Gill has kindly sent me a newspaper cutting (date and publication unknown) which Vernon has kept and which 'confirms' the existence of the tunnel. It is also interesting to note the suggestion that the original buildings were established to serve as the bakery for the Royal Pavilion.
It seems likely that the 'tunnel' was actually part of a drainage scheme to solve flooding problems in the locality.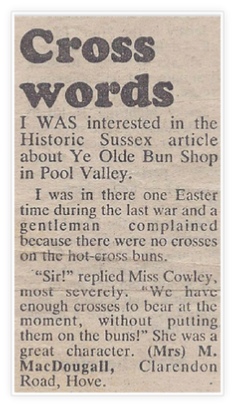 This is a recollection of an exchange between a customer and Miss Caroline Cowley. The newspaper cutting (date and publication unknown) was sent to me by Gill Cowley.

This picture of Francis Cowley appeared in an 1897 local paper marking Queen Victoria's Diamond Jubilee, some 6 years after his death.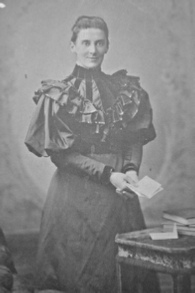 Notice of sale of Nos. 9 & 10 Pool Valley.
From the Brighton Gazette - 18 November 1847.
Report of prosecution of Joseph Akehurst for theft.
From the Brighton Guardian
7 October 1868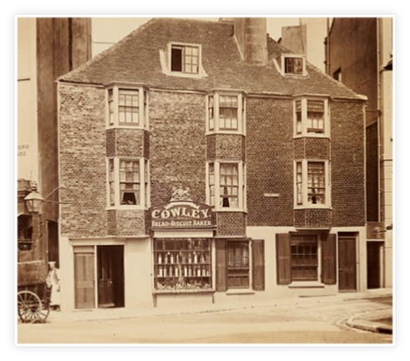 This is the earliest photograph of the bakery that I have found and dates from around 1900 showing the front of the "Cowley Bread and Biscuit Baker" shop. A man in baker's uniform is standing to the left hand side of the shop behind the Cowley handcart.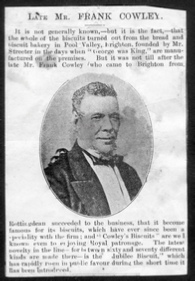 Thanks
Thanks to the power of the internet my knowledge of the the history of the Cowley Bakery keeps on growing, but none of this would be possible without the enormous interest and contributions of the many people who have contacted me.
Particular thanks go to -
Brighton & Hove Museums
The Regency Society of Brighton & Hove
Gill and Vernon Cowley
Kristen Bailey
Chris Horlock
Carol Homewood
The Argus
The Later Years
1934
Caroline Cowley died in 1934. In her will she left the bakery business – balance of the lease, implements and effects, goodwill, and so on – to her niece, Emma Cowley. This was Emma Marion Cowley, daughter of Caroline's brother, Francis (1837-1903). Emma had certainly been working alongside her aunt in the bakery as she is listed at 9, Pool Valley in the censuses of 1901 and 1911.
At the time of Caroline's death, Emma was around 72 years old, not exactly the best age to inherit such a demanding business.
1937
Emma married Oliver William Ottaway on 6 January 1937 but sadly died a short time later that year on 2 June.
Emma left the business to her cousin, Edith Bessie Cowley, the third of four daughters of Stephen Cowley (1848-1918) and Laura Charlotte Gardner. Edith is described in Emma's will as 'Manageress' of the bakery.
1939
Edith Bessie is listed in the 1939 register at 9, Pool Valley as a 'Master baker and confectioner'.
Edith died on 26 October 1956. The probate record shows her estate valued at £14274 15s 1d, so she must certainly have made a success of the bakery. There is no mention of the bakery in Edith's will so I can only conclude that she must have sold the business prior to her death.
And later …..
Intriguingly, 'Cowley's Bakery' is listed in Kelly's Directory of 1968, and the years before, as still present at 9, Pool Valley but I have no idea who had taken over the business.
Booklet produced by Miss Caroline Cowley showing the huge variety of biscuits made by the Cowley bakery.
From the collections of Brighton & Hove Museums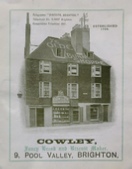 Page updated - 14 November 2022








It is not generally known, but it is the fact, that the whole of the biscuits turned out from the bread and biscuit bakery in Pool Valley, Brighton, founded by Mr. Streeter in the days when "George was King", are manufactured on the premises. But it was not till after the late Mr. Frank Cowley who came to Brighton from Rottingdean succeeded to the business, that it became famous for its biscuits, which have ever since been a speciality with the firm; and "Cowley's Biscuits" are well known even to enjoying Royal patronage. The latest novelty in the line – for between sixty and seventy different kinds are made there – is the "Jubilee Biscuit", which has rapidly risen in public favour during the short time it has been introduced.
From Brighton Herald or Gazette - 1897
Late Mr. FRANK COWLEY
_____


Friday, October 2nd
Present: W.M. Hollis, J. Allfree, and J.W. Silverthorne, Esqrs.
Joseph Akehurst, 21, was charged with embezzling various sums, the monies of his master, Francis Cowley.
Prosecutor said he was a baker and confectioner. Prisoner had been in his service, with an interval of a twelvemonth, from a boy, It was his duty to take out bread, receive the money for the same, and pay it over the same day. Mrs Botting, of 80, West Street, was a customer of witness's. Prisoner had not accounted to him for any money received from her on Monday, Tuesday, or Wednesday last.
Francis Cowley, jun., clerk to his father, deposed that prisoner gave him an account of bread delivered to Mrs Botting on the three days named; it was 4¼d each day. Those sums had been booked against her, but had not been paid to witness. On Tuesday prisoner also stated that he had left a quarter of flour, value 9d, at Mrs Botting's. Mrs Botting deposed to paying the several sums on the delivery of the bread and flour.
Detective Starley said prisoner was given in to his custody last night by Mr Cowley. He charged him with embezzling several sums belonging to his master, and the only reply he made was "Yes". At the Hall Mr White repeated the charge, and prisoner said he had "made off with the money".
In a second case, it was proved that prisoner had received 3s 2d from Mrs Batchelor, 11, Cannon Place, for bread and flour, but has not paid over the money to his master.
Mr Verrall (Magistrates' Clerk) said that under a new Act cases of embezzlement might be dealt with summarily. This was the first case that had occurred at Brighton since the Act had come into operation.
Prisoner pleaded guilty to both charges.
Prosecutor said prisoner had been robbing him in a similar manner since April last. He had found that out by reference to the books. He estimated that he had robbed him altogether of £6 or £7. He was paid 8s a week and his board.
Prisoner was committed to hard labour for three months.


Ye Olde Bunn Shoppe Booklet
Click on images to enlarge
Reproduced by kind permission of Brighton & Hove Museums









Press Opinions
"The World", Christmas, 1886.
"Here you have a genuine bit of old Brighton, in the quaint bun-shop, which from time immemorial has been known as "Streeter's." Cannot I recall the particulalry toothsome square sugary bun - it was a sort of aesthetic Bath-bun, if my recollection serves me - and the crisp "parliament" they used to sell at this establishment? The place is not the least changed. Young people have told me that the buns are still toothsome and the parliament still crisp. I am glad that there is something which still remains unchanged here."
"Brighton Gazette," December 22nd, 1900.
"At No. 9 is an establishment reminding those of us who are in the sere and yellow leaf of Brighton's early days, and whose fame stands as high as ever. We refer to the bakery and confectionery shop carried on by Miss Cowley, which was famous when the Pavilion was a Royal residence. Notwhithstanding the age of the business it has kept thoroughly abreast of the times, and is up to date in all other respects. The house is chiefly noted for biscuits, which are to this day made on the premises by hand. Many and various are their shapes and flavours, and wholesomeness and delicacy in taste are combined in an eminent degree."

Close Up
Pool Valley in Brighton is one of our most ancient sites and, at its peak, held 19 shops which could offer 19 different services. These came and went but the bread and biscuit maker at number nine prospered and endured for more than 110 years. It became a great favourite when, under the Cowley family, it had "Ye Olde Bunn Shoppe" painted on the roof and the Royal Arms insignia placed over the door. It's been knocked about a bit since the bakers left and look at it now – virtually on the point of collapse. Thank goodness for its Grade II listing! The mathematical tile cladding on the bays is exposed. These special tiles / bricks were made to avoid the tax on bricks and are unique to a small part of the south of the county. They were either nailed to battens or mortared to the wall. They were then pointed to resemble brickwork.
The bakery at number nine was first run by Mrs Sarah Streeter, but by 1858 Francis Cowley had the business and he started off a remarkable line of the family bakers which only ended about 1936 under Miss E.M. Cowley. Francis Cowley died in 1881 and he was succeeded by his daughter Caroline. She obtained the Royal Warrant in about 1908, presumably as supplier to Queen Adelaide.
Another Cowley ran his business from Pool Valley. By 1865 A. Cowley was a pastry cook and confectioner at number seven and by 1868 had taken over number eight as well. The "Bunn Shoppe" carried on under the family trade name into the 1950s, and in the mid-1950s Miss F.B. Cowley was running a bakery at 95 Boundary Road in Hove.
The Wellesbourne stream ran down the Steine, close to the Royal Pavilion, and entered the sea via Pool Valley. In about 1794 this was channelled underground on the Prince Regent's orders and the brick culvert must have passed cose to or under where number nine was built. There is a story about a passageway from Cowleys to the Royal Pavilion but perhaps it was the culvert that gave rise to this.
Author: Laurie Keen
Published in 'The Argus', date unknown