Brighton and Beyond
A History of the Cowley Family
Reproduced by kind permission of The Royal Pavilion and Museums, Brighton & Hove
Foundation of
Throckmorton Trotman Esq.
Bunhill Row,
London.
Pinnock's History of England
Many years ago my father, Charles Leonard Marshall Cowley, gave me a book, 'Pinnock's History of England', which had been given to him by his 'Uncle Bob' (Robert Barnes Naylor). The book was in a very sorry state of repair - pieces of the spine had fallen off and were in a Boots plastic bag, and pages were falling out! In 2008 I decided to have the book restored and this was done superbly well by a bookbinder in Corwen, North Wales. The book provides a fascinating glimpse of part of our family history although it probably poses more questions than it answers!
The front cover of the book, originally presented to James Priestnall Woolley (b abt 1819), is embossed 'The Gift of the Haberdashers Company'. Inside the flyleaf there are three inscriptions - the original is shown in black type below and the later additions are in blue.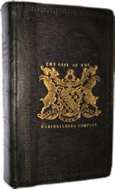 Click on image to enlarge
Robert Barnes Naylor
on his 8th Birthday
Sep 14 / 78
From his Grandpapa
James Priestnall
Woolley
To
Charles Leonard Marshall Cowley
Great Grandson of
James Priestnall Woolley
From Uncle Bob
22 May 1920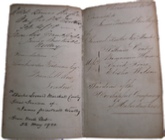 Click on image to enlarge
Christmas 1830
Presented to
James Priestnall Woolley
by
Samuel Butler Esq Master
William Coates
Benjamin Harvey
David Price
Elisha Wilson
Wardens of the
Worshipful Company
of Haberdashers

James Priestnall Woolley (b abt 1819)
I know very little about James Priestnall Woolley (b abt 1819) other than that he was born in London and that in the 1861 census he is living in Brighton with his wife, Elizabeth Adriana , a 'teacher of drawing'. James is listed as a 'Hat Maker employing one man and two boys'. His profession undoubtedly explains the gift of the book, as explained below.
The Haberdashers' Livery Company
Dr David Bartle, Archivist at The Haberdashers' Company, writes -
"From what you say, my suspicion is that the book presented to James Woolley may have been as a Christmas gift to him as a pupil at the Trotman School in Bunhill, London. If you would like to know more about this Bunhill School, please see the details below about our records that you would now need to consult in the Manuscript Section of the Guildhall Library:
TROTMAN'S SCHOOL, Bunhill Row (17th century-1883); City Road (1883-99). Established under will of Throckmorton Trotman (1663) who bequeathed £2000 to Haberdashers' Company to build and endow a school. A school was built on land purchased by the Company in Bunhill Row. The school took boys from the parish of St Giles Cripplegate, and, after its establishment as a parish, from St Luke's Old Street. In 1819 there were only 12 boys being educated. Closed in 1899, and money from the bequest diverted to other schools supported by the Company. L 49.1 Ms 15901 - (Pupil records, 1844-99 (admission register). Administrative records, 1827-1979 held on behalf of the Haberdashers' Company are in the Guildhall Library)
We do not have here any specific details of James Woolley's trade as a hatter, but if he was a member of the Haberdashers Company (quite likely as he went to a Haberdashers school and followed in a related trade) he should appear in either the Register of Bindings (ie Apprentices) and/or the Registers of Freedoms of the Company that are once again the care of the Guildhall Library Manuscript Room are available to consult on microfiche."
The Haberdashers' Company is eighth in the order of precedence of Livery Companies (order established in 1516) and as such is a member of the "Great Twelve Companies"
Click here to read about the Company's history and present day work on their web site.

Page updated: 14 May 2020